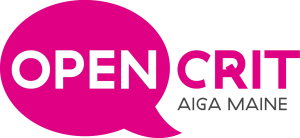 Open Crit is a regular workshop series that provides a safe and inclusive space for designers to bring projects, discuss ideas, and share constructive feedback. The workshop is open to all experience, skill, and discipline levels.
Follow us on Instagram (@aigamaine) to stay up to date on our programming schedule, including Open Crit.
If you have questions or want to learn more, please email communications@maine.aiga.org.