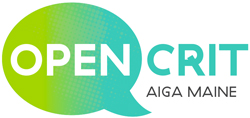 Open Crit: Tuesday, April 11th, from 5:30–6:30pm
Learn more about the event here. Registration is required. Free and open to non-members.
Open Crit is a workshop series that provides a safe and inclusive space for designers to bring projects, discuss ideas, and share constructive feedback. The workshop is open to all experience, skill, and discipline levels.
If you are interested in participating or want to learn more, please email communications@maine.aiga.org.