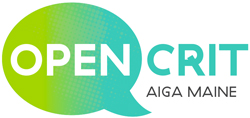 Open Crit: Thursday, May 26th, 2022 from 5:30–7pm
Learn more about the event here. Registration is required.
—
Open Crit is a series of workshops hosted by AIGA Maine which provides a safe and inclusive space for designers to discuss ideas and share constructive feedback. This is an opportunity to practice presenting and discussing one's work in a fun environment. The workshop aims to bring together our multidisciplinary community and is open to all levels of experience and skill.
If you are interested in participating or want to learn more, please email communications@maine.aiga.org.